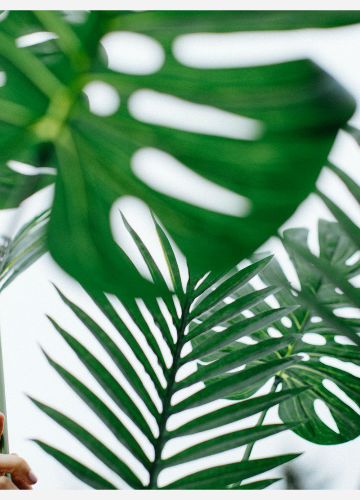 A Different Kind of Holy Week
The tradition of the Church is to prepare for our celebration of Christ's resurrection by walking with Jesus through his last week of life - from the triumphal entry in Jerusalem, to his last supper with his disciples, and to his trial and crucifixion. This experience is profound and deeply enriching. This year, you're invited to take this journey with us, but in a different way. Holy Week begins this Sunday, April 5th. Please read below to learn about how you can participate.

Palm Sunday
Jesus' Triumphal Entry into Jerusalem

Check your email Sunday morning for your Palm Sunday worship guide and sermon. You can tune into our Facebook page at 9:00 a.m. (or watch the recorded video later) to watch the reading of Jesus' Triumphal Entry and the blessing over the palms. After that, we invite you to come to the church, where you may drive-through to pick up your palm from outside the Welcome Center doors. (One household at a time - please do not gather.) Take your palm with you for a selfie, and to display on your car, mailbox, front door, etc. Printed worship guides for Holy Week will also be available to pick up, if you choose.
Maundy Thursday
We participate as disciples in Jesus' Last Supper

Our commemoration of Jesus' last supper with his friends is the perfect opportunity to have an "Agape Meal" at home. Whether you live alone or with others, plan a simple, meatless, meal for this day - bread and wine are traditional, along with cheese, soup, fruit, or vegetables. On April 9th, your email will include prayers and readings to go along with your evening meal. The email will also include a link to a video meditation on the Stripping of the Altar at St. Margaret's.

Maundy Thursday is also traditionally the day when we wash one another's feet, remembering that Jesus washed the feet of his disciples and told them to "Love one another as I have loved you." Remember Jesus' commandment this year by bringing a donation of new socks for the homeless. Drop them off this Thursday or next, in the donation bin located outside the church office doors.

Finally, after supper and before his arrest, Jesus took his disciples with him to Gethsemane, where they prayed. Rebuking the sleepy disciples, Jesus says to them, "Could you not watch with me one hour?" Our tradition then is to keep The Watch, in one hour shifts of prayer, from 8:00 p.m. Thursday until noon on Good Friday. Instead of using the House of Prayer, we ask you to sign up to keep an hour of prayer from home. You can volunteer for an hour here.
Good Friday
We walk with Jesus from his arrest to his crucifixion

The Stations of the Cross is a walking meditation, with 14 steps along Jesus' final journey. We are blessed at St. Margaret's to have an outdoor path with stations made by the youth group in 2013. On Good Friday, you're invited to come at any time during the day to walk the stations on your own or with your household. Park along the back driveway, and enter through the path to the columbarium and memorial garden. Prayers and readings will be provided. The stations begin near the building and conclude at the columbarium. Please only one individual or household per station at a time.

Your Good Friday email will include more prayers and resources for the day.
Easter Vigil
We move from darkness to light

Drawing on some of the earliest traditions of ancient Christians, the Easter Vigil typically includes four parts: the Lighting of the Paschal Candle, The Liturgy of the Word - including 4-8 readings of scripture that review salvation history, Baptism, and Holy Communion. For this year, we will focus on the kindling of the new light, and the vigil readings. Tune in to our Facebook page at 8:00 p.m. on April 11th to watch the Lighting of the Paschal Candle and to hear the Exsultet - an ancient prayer in thanksgiving for the light. Your worship guide for the Easter Vigil will also include the readings and prayers that you may use at home.